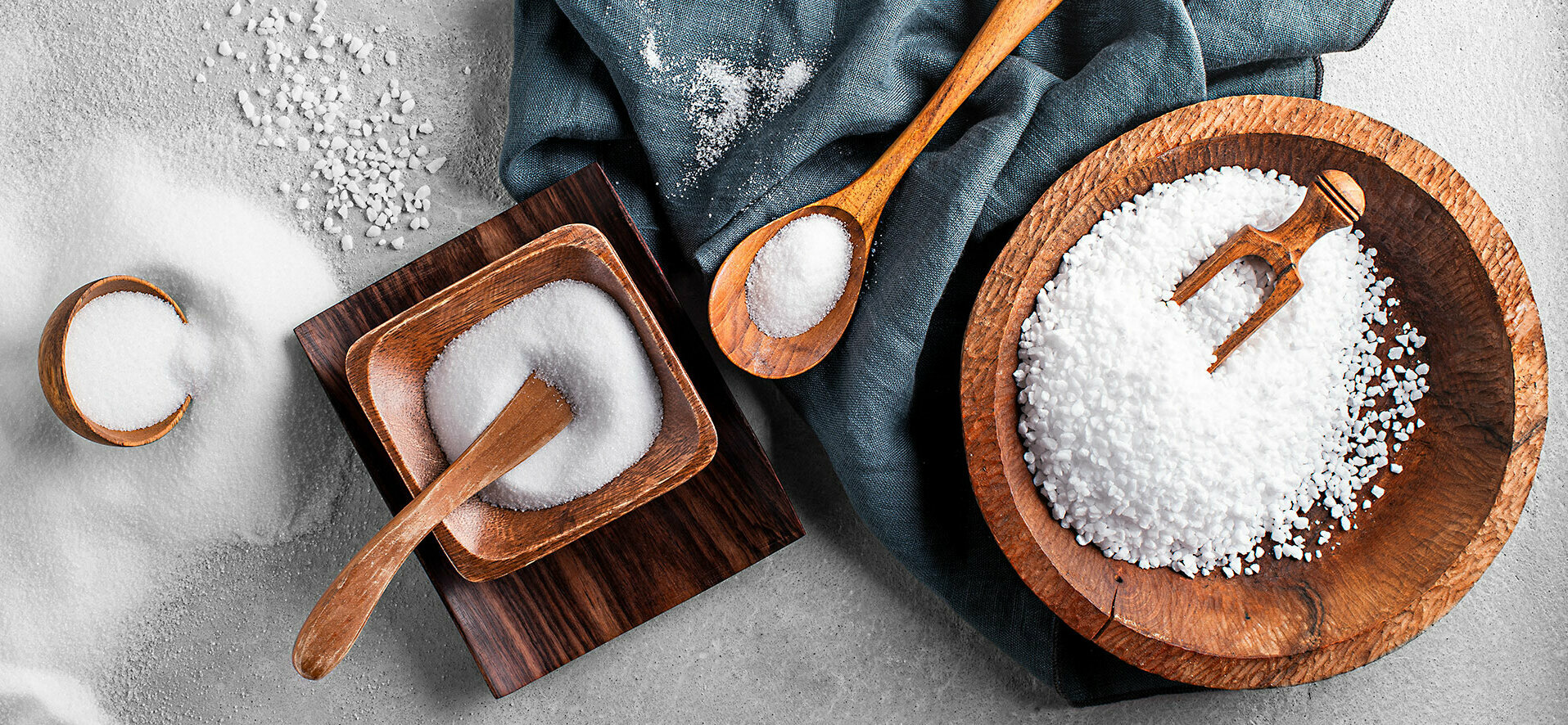 BAD ISCHLER Salt of the Alps
A salt for every kitchen
Our BAD ISCHLER Salt of the Alps is an indispensable accompaniment for everyday cooking.
It's harvested right from the very heart of the Austrian Alps – and you can really taste it. From traditional dishes to modern cuisine, our BAD ISCHLER salt adds a very special touch that enriches every meal.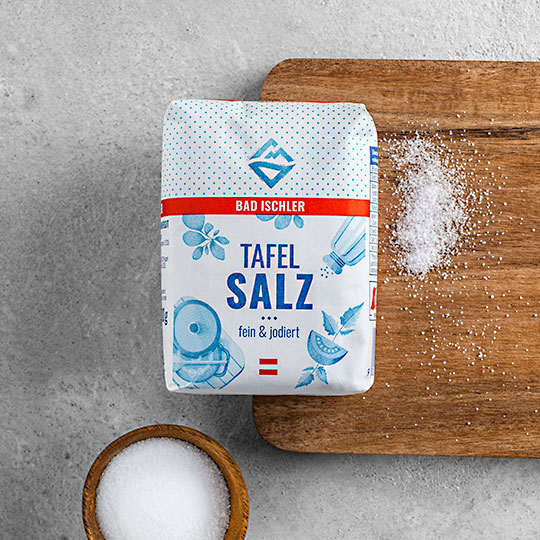 BAD ISCHLER TABLE SALT FINE & IODISED
The everyday favourite
Our BAD ISCHLER Table Salt is a classic amongst culinary salts. This iodised salt is perfect for everyday use in the kitchen and at the table to create tasty dishes that take you back to holidays in Austria.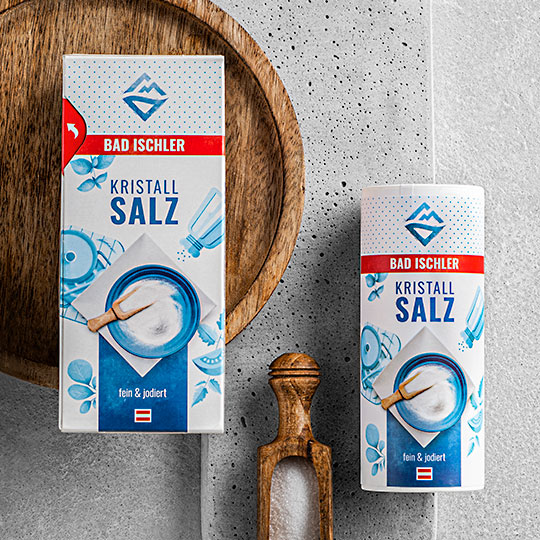 BAD ISCHLER CRYSTAL SALT FINE & IODISED
The well-balanced all-rounder
Whether for pasta water or tasty potato dishes – our versatile salt is ideally suited as a seasoning for all of your favourite dishes.
SALT FROM THE SALZKAMMERGUT. ENJOYED FOR 7,000 YEARS.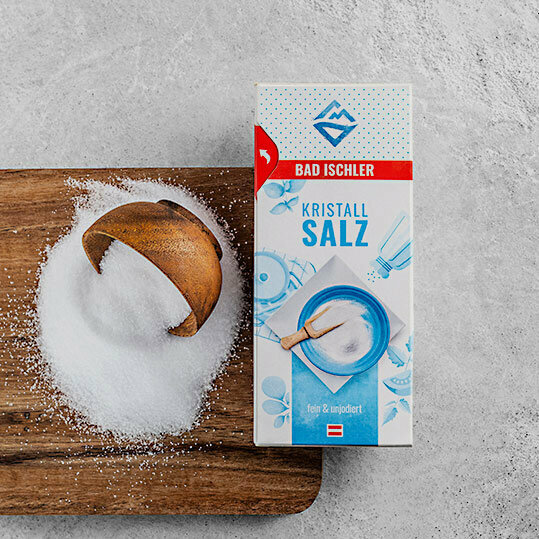 BAD ISCHLER CRYSTAL SALT FINE & NON-IODISED
For preserving using age-old methods
Preserving food has a long tradition in Austria. Our BAD ISCHLER Crystal Salt is perfect for retaining the natural flavour of foodstuffs and extending their shelf life.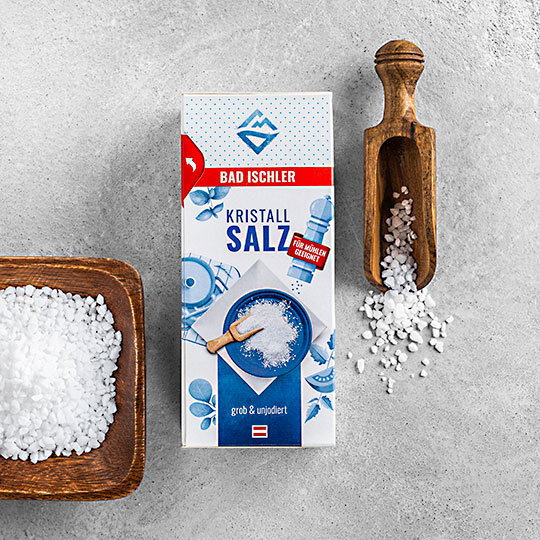 BAD ISCHLER CRYSTAL SALT COARSE & NON-IODISED
Salt-crusted fish made easy
Moist and bursting with flavour – every fresh fish is gently cooked to perfection in a BAD ISCHLER salt crust.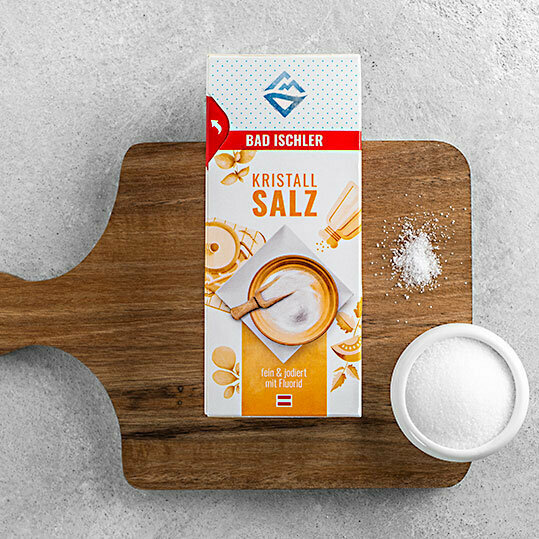 BAD ISCHLER CRYSTAL SALT IODISED AND FLUORIDATED
Great-tasting salt for a brilliant white smile
Our iodised and fluoridated BAD ISCHLER Crystal Salt contains fluoride, an important trace element that has a significant impact on maintaining tooth mineralisation.